Stay Fit in Miami Beach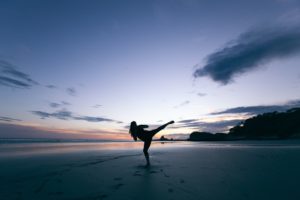 With its top-notch amenities and one of a kind experience, Miami Beach is integral for the health and fitness industry. With its various fitness centers, community wellness activities available at no charge, and various running routes, it's an ideal destination for anyone looking to remain active.
The Miami Marathon will be taking place in Miami Beach soon and if you're looking to prepare, the city has got you covered. The Spartan Gym located over at the 1 Hotel South Beach will be offering exercises centered around obstacles to get participants ready for the physically demanding event.
If obstacle based exercise isn't up your alley but you still want something intense, check out Reebok CrossFit in South Beach. Every day brings a different workout and challenge as members are pushed to their limits doing squats, sit-ups, and more.
If you have no intention of participating in the marathon or find CrossFit to be just a little out of your fitness comfort zone, Miami Beach is ideal for those seeking relaxation. In fact, you can participate in a class of yoga at no charge every day of the week by heading to 3rd Street Beach Yoga. You don't necessarily need to bring a yoga mat as a natural one is already provided for you.
This update is presented by Miami Beach Realtors representing Blackstone International Realty, specializing in Icon South Beach.  If you are interested in Miami Beach condos such as the Icon condos for sale one of the luxurious South Beach condos, call 305-588-2451 for information on sales and rentals.