Miami Beach's Best Music Week Pool Parties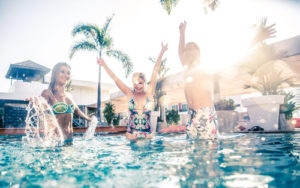 Miami Music Week is in full swing, culminating with the arrival of the ultra popular Ultra Music Festival. To help you get in the mood and enjoy all of the tunes, there are plenty of pool parties going on, and we're here to tell you about some of the best ones.
The Axtone Miami Pool Party kicks off tomorrow at the Delano in Miami Beach. The party will feature a host of famous DJs including Benny Benassi, Bob Sinclar, and many more. There are also rumors that electronic music supergroup Swedish House Mafia may reunite at the party. Mainstream audiences might recognize them from their Grammy nominated 2012 hit "Don't You Worry Child". Tickets cost $48.
Over at the Nautilus, the Heartfeldt Pool Party begins at noon on Friday. Names like Hook N Sling and Jonas Blue will be spinning "palm tree house music" as partygoers sip on piña coladas while listening to singers like Emily Warren. Tickets cost $43.
If you didn't snag tickets to Ultra, you can always listen to DJ Erick Morillo at the National Hotel on Collins Avenue this Sunday. The DJ is known for being very energetic and he will be joined by names like Junolarc, Cocodrills, and more. Tickets to 20 Years of Subliminal with Erick Morillo cost $23 and the party begins at noon.
This update is presented by the Miami Beach real estate team representing Blackstone International Realty, specializing in ICON South Beach. If you are interested in Miami Beach condos such as the ICON South Beach condos for sale one of the other luxurious South Beach condos, call 305-588-2451 for information on sales and rentals.